Culligan Drinking Water Systems
Discover the Difference a Culligan Drinking Water System can make
Drinking water systems give your home or office a never-ending, clean supply of filtered drinking water at your fingertips. No other solution offers the assurance and convenience that you get from a Culligan Drinking Water System. It's as simple as turning on your faucet!
Your Mechanicsburg Culligan Man will recommend the right drinking water solution, specifically tailored for you. Using reverse osmosis filtration and sophisticated interchangeable water filters, you can have high-quality Culligan drinking water whenever you'd like.
 Your local Culligan of Mechanicsburg has the water systems you need to improve the drinking water in Perry, Dauphin and Cumberland counties. Discover the difference a Culligan Drinking Water System can make by calling your local Culligan Man today.
*Impurities are not necessarily present in your water.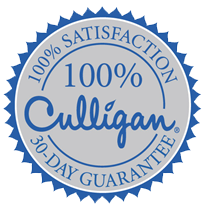 Culligan 100% Satisfaction Guarantee
If you are dissatisfied with your Culligan product for any reason within 30 days of your purchase, Culligan will remove the product and refund the purchase price.