Culligan Salt Delivery Service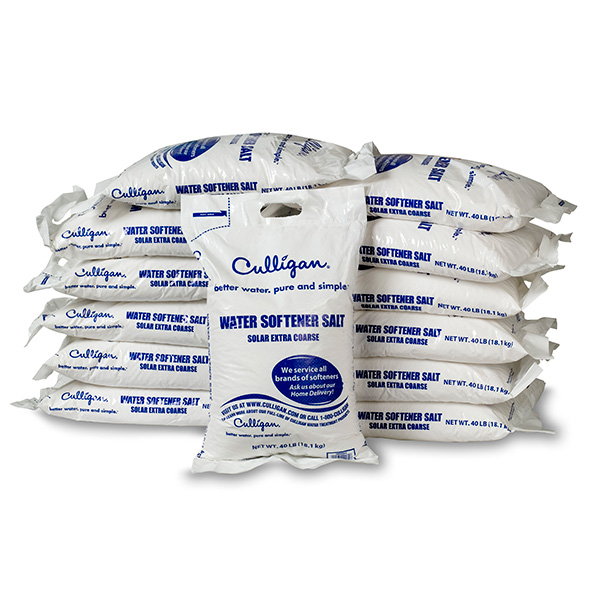 You Don't Have to Lift a Finger.
Water softeners rely on salt to improve the quality of your water. The system removes the calcium and magnesium ions from the hard water and replaces them with sodium ions from the salt, making your water smooth and refreshing.
Make sure your home or business always has soft water with the salt delivery services from Culligan of Mechanicsburg. When you need to refill your water treatment system, your local Culligan Man will handle everything, from bringing the correct salt to refilling your machine for you.
Sign up for our automatic delivery schedule so you don't have to worry about running out. Your local Mechanicsburg Culligan Man will place you on a delivery schedule that works for you to get all of your water treatment supplies.
Salt Quantities:
40 Lb. bags
50 Lb. bags
For Bulk Purchases: We can sell both those bags in 1 ton quantities at a reduced price.
Types of Salt We Offer
Solar Salt Crystals
Red Out Salt (for high iron applications)
Duracube Salt (high purity salt)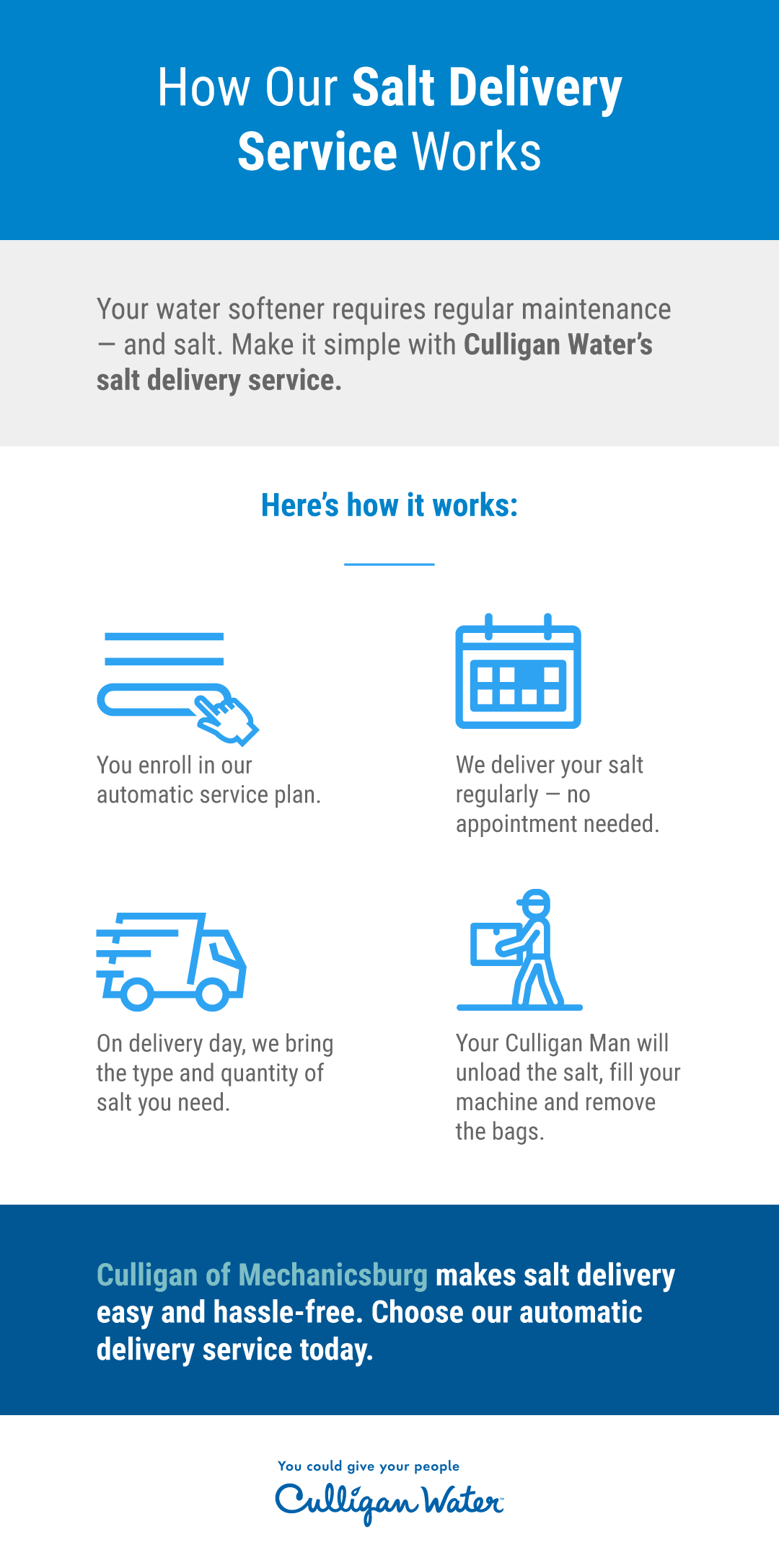 Salt Delivery Service in Mechanicsburg and the Surrounding Areas
Your local Culligan Man from Culligan of Mechanicsburg will deliver the salt quantities you need, even if your water softener is not the Culligan Water brand. With regular salt delivery, your water softener will have all the salt it needs to work correctly.
When you enroll in our automatic service plan, we'll deliver your salt with no appointment necessary. This plan makes residential and commercial salt delivery hassle-free with no need to remember to give your local Culligan Man a call.
On the day of your delivery, we'll bring you the quantity and type of salt you ordered. We ensure that all of our salt deliveries are accurate for your convenience.
Benefits of Commercial Water Softener Salt Delivery
Ordering salt delivery services for your salt supply offers many advantages over getting it yourself, such as:
Convenient and regular scheduling: You'll never be without salt with water softener salt delivery. Our delivery is based on your schedule and consistent over time, so you can always rely on your local Culligan Man to arrive with the salt supply for your softener.
Accurate ordering:

Your local Culligan Man knows what kind of salt your system needs, so you will always get the right type of salt with a delivery.
Labor-free: You

don't

have to

lift a

finger — let your local Mechanicsburg Culligan Man do all the heavy lifting instead. We'll unload all of your salt bags, fill up your machine and remove your empty bags so you don't have to.
Saves time:

Buying your salt supply yourself takes time and work. Our salt services save you the effort with handy delivery right to your door.
Complimentary maintenance check: When your local Culligan Man delivers your salt, they'll check your softener too. We look at the system's timer settings, leaks, the bypass mechanism, the water level and other crucial areas to ensure your water softener is giving your home or business its peak performance.
Trustworthy company: Who better to deliver salt for your water softener machine than Culligan of Mechanicsburg? Your local Culligan Man is an expert on your water softener machine, so you can trust them to provide you with the right salt anytime.
Order Your Bulk Water Softener Salt Delivery From Culligan of Mechanicsburg Today
For bulk water softener salt delivery service near you in Mechanicsburg, Harrisburg or the surrounding areas, call Culligan of Mechanicsburg. We're backed by the trusted legacy of Culligan Water softeners and salt while providing solutions that are unique to your community. We live and work in the Mechanicsburg area, so we understand your water needs and will work with you to find the best option to improve your water quality.
Want more information about our salt services? Ask your local Culligan Man by calling 717-697-0657 or by filling out our contact form.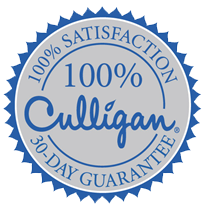 Culligan 100% Satisfaction Guarantee
If you are dissatisfied with your Culligan product for any reason within 30 days of your purchase, Culligan will remove the product and refund the purchase price.