Water Softener Services in Carlisle
Water Softener Services in Carlisle, Pennsylvania

If you're considering installing a water softener or filtration system in your home or office, you want to ensure a high-quality, long-lasting system for the best return on your investment. Finding effective yet affordable water softener services in Carlisle, Pennsylvania, would be ideal to ensure your employees or family always have access to healthier drinking water.
At Culligan Water in Carlisle, we provide cost-effective, top-of-the-line water treatment solutions to this community's residents and business owners. Customers worldwide have trusted our water treatment solutions for over 80 years. Put our expert services to the test and partner with us for your water conditioning system.
Water Conditioning Services in Carlisle, PA
Choosing Culligan Water as your water softener and filtration system partner gives you access to our convenient services tailored to your water conditioning needs. These are just some of the services we offer:
Free, in-home testing: Our team will conduct a free water analysis at your home to test for basic contaminants and advise you on the best solution for your situation.
Other testing services: We also offer certified laboratory, well water and specialty testing services in Carlisle as needed.
Water system installations: The Culligan Water team of technicians will install your required system, whether you need a water softener, water filter, water purifier or another drinking water system.
Maintenance, repairs and parts replacement: No matter your system or machine maintenance or repair needs, we can take care of it hassle-free.
Delivery services: Our professionals are ready to deliver and refill the water for your bottled or Bottle-Free® water cooler and the salt for your filtration system when needed.
Water dispenser rentals: You can rent a water dispenser or cooler, giving you a more affordable and convenient way to ensure exceptional quality water in your home or office. 
Switching to Softened Water in Carlisle
Incorporating a water softener solution in your home or business has numerous benefits. These advantages of soft water benefits include:
Improved health and wellness: Reduce the adverse effects of hard water minerals on your hair and skin, and ensure your water is softer and cleaner.
More effective cleaning: Eliminate soap scum and mineral deposits left by hard water in bathtubs, showers and faucets.
Less wear and tear: Keep mineral buildup and corrosion related to your plumbing pipes and appliances at bay and extend their longevity in the absence of hard water.
Saves you money: Lower your utility bill with improved energy efficiency and save on plumbing and appliance maintenance and repairs when you switch to soft water.
Softer, cleaner laundry: Enjoy cleaner, softer, brighter clothing after doing your laundry with softened water.
Contact Culligan Water in Carlisle, PA, for Your Water Treatment Needs
Incorporating water treatment solutions at your home or office is an investment in your health and well-being, ultimately saving you a great deal of time and money in the long run. To ensure you get the best possible water softener or filtration solution, it's vital to ensure you work with an experienced and trusted professional. Partnering with Culligan Water guarantees premium-quality water conditioning solutions and unmatched customer service. Contact our team today for a free water analysis and water treatment solution recommendation.
Want more information?
Ask your Culligan Man.
717.697.0657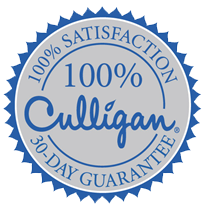 Culligan 100% Satisfaction Guarantee
If you are dissatisfied with your Culligan product for any reason within 30 days of your purchase, Culligan will remove the product and refund the purchase price.