Terminology
Refer to our terminology guide for explanations of the various terms across our website.
Ultraviolet Water Purification
Ultraviolet water purification is a water purifying method that disinfects the bacteria in water, inspired by the germ-killing properties of sunlight. It works by using a combination of gas and voltage to create the right wavelength. The UV rays then penetrate pathogens and other microorganisms in the water, such as:
E. coli
Cryptosporidium
Salmonella
Giardia
The UV rays alter their genetics, making reproduction impossible.
Though the method is harsh on microorganisms, it's safe — and one of the most effective methods for getting clean drinking water, destroying 99.99% of the organisms while preserving the water's taste and odor qualities. There are no chemicals or byproducts involved in the purification process, requiring only a low-energy UV bulb.
Ultraviolet purification is usually used with reverse osmosis or other forms of filtration to remove compounds like chlorine.
Perfluorooctanoic Acid
Perfluorooctanoic acid (PFOA) is a compound in the class of perfluoroalkyl substances (PFAS). It was used in many manufacturing and industrial processes because it resists water and grease. PFOA was used to make products such as:
Leather
Adhesives
Paint
Non-stick pans
Cleaning products
Although PFOA was used for decades, recent environmental studies have discovered that this compound is harmful to the environment and human health. Its strong molecular structure means it is difficult to break down, so it lingers longer than other organic chemicals in the environment and the body.
One of the main ways people are exposed is through drinking water. If manufacturing facilities release PFOA into the environment, it will get into the soil, ground and surface water and, eventually, public and private water supplies.
Water filters with reverse osmosis capabilities and drinking water systems are some of the best prevention methods for eliminating PFOAs from your drinking water.
Perfluorooctane Sulfonate
Perfluorooctane sulfonate (PFOS) is a kind of perfluoroalkyl substance (PFAS). It was once thought to be a beneficial substance because of its fire, oil, stain and water-repelling capabilities. It was used by manufacturing plants to create:
Firefighting foams
Waxes
Paint
Polishes
Non-stick pans
After decades of use, environmental studies revealed their harmful effects in both nature and the human body. Although many companies phased them out of production in the early 2000s, PFOS is difficult to break down and is still present in the environment, polluting the air, soil and water.
If facilities dump their PFOS supply into the environment, it affects the soil, ground and surface water, eventually contaminating the drinking supply. Water is the primary way PFOS affects human health.
Water filters with reverse osmosis and drinking water systems are some of the best methods for eliminating PFOS in water.
Call Your Local Culligan Water Today
Your local Culligan Water will perform a water quality test to determine the best solution for your home or business. Call Culligan Water of Mechanicsburg at 717-697-0657 or send us a message on our website today!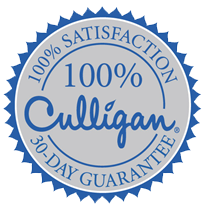 Culligan 100% Satisfaction Guarantee
If you are dissatisfied with your Culligan product for any reason within 30 days of your purchase, Culligan will remove the product and refund the purchase price.