Business Water Purifiers
Water purifiers for businesses provide refreshing and clean water for your office, so your colleagues have access to a better-tasting water supply for coffee, tea, soups or drinking. Culligan of Mechanicsburg has filtration systems that are equipped to meet the needs of your business.
How Do Water Filters Work?
There are many kinds of water filters and purifying systems available at Culligan of Mechanicsburg. Though there are several trusted methods for removing particles and contaminants from the water supply, reverse osmosis is how our water purifiers clean your water.
Our water filtration systems remove sediment, chlorine, manganese, sodium, fluoride and iron particles from your water. Water pressure forces your water supply through a filter that traps these particles and allows the rest of the water to pass through. The system cleans itself by flushing the system which rinses away these sediments.
Reverse osmosis is a beneficial method for purifying drinking water because it removes contaminants and unpleasant odors and tastes.
Water Purification Systems for the Office
Water filtration systems improve the water supply in your office. It is easy for your colleagues to get a glass of clean water because it is always available. Some systems have hot and cold water options, so the improved taste of purified water can enhance coffee, tea, soups and other food and drink.
Having a water filtration system in your office is beneficial because:
It will improve the taste of your water supply.
It will encourage your employees to drink more water.
Your office will have less plastic waste from single-use bottles.
Your office will save money by eliminating the need to buy plastic water bottles.
Water Filtration System Maintenance Services
Culligan Water purifiers deliver a fresh and clean water supply right to your office. We have many water filtration systems that work well for business use. When you order your purifier from Culligan of Mechanicsburg, your local Culligan Man will install it for you. Soon, all of your colleagues will enjoy using the office water filter to stay hydrated!
Our water purifiers for business are virtually maintenance-free because we take care of your system's needs for you. Let us change and dispose of your filter, make repairs, and perform maintenance and other necessary tasks to keep your water purifier at its best performance. Give your local Culligan Man a call when you need service, and they will stop by your business at a day and time that's convenient for your schedule.
Water Purification Systems for Sale at Culligan of Mechanicsburg
Culligan of Mechanicsburg has the legacy of the Culligan Water brand with the personal understanding of local water needs. We live and work in the same community as you do, so we are equipped to provide your business with a filtration system that will make your water supply taste its best.
To install water purifiers for business use in your office, call your local Culligan Man at 717.697.0657 or contact us online.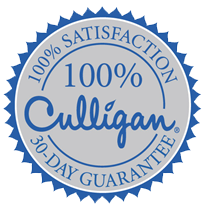 Culligan 100% Satisfaction Guarantee
If you are dissatisfied with your Culligan product for any reason within 30 days of your purchase, Culligan will remove the product and refund the purchase price.