Water Softener Services in Camp Hill, Pennsylvania
Water Softener Services in Camp Hill, Pennsylvania

Camp Hill is a vibrant town on the West Shore with a rich Civil War history and plenty to do. It's an excellent place to live, whether you're a young professional, retiree or family needing a safe, welcoming community.
Even though Camp Hill is a great place to settle down in the Harrisburg metro, it's like many Pennsylvanian towns — its water quality could be better. Still, you can have delicious, pure water in your Camp Hill home or business when you contact Culligan Water. We can fix any water problem.
Why Camp Hill Residents Need Culligan Water
Pennsylvania has a long history in manufacturing, coal mining and agriculture. While these industries have helped the state grow into what it is today, they've also impacted the water quality and continue to do so. Camp Hill is only a short drive from manufacturing facilities and farmland.
Despite these considerations, you can have clean, healthy drinking water and eliminate hard water. As water quality experts and central Pennsylvania residents ourselves, the team at Culligan Water understands your concerns, and we can help. Using state-of-the-art systems, decades of experience and a passion for our community, we'll ensure you have high-quality water year-round.
Our Water Services and Products
At Culligan Water, we don't believe in one size fits all. That's why we start every project with a free in-home analysis to determine specific water quality issues and how to solve them.
Considering your concerns and needs, we'll recommend a personalized solution. Our water treatment solutions include the following:
Consider one of our water rental plans to try a softener solution before making a purchase.
Benefits of Water Treatment Solutions
With our water treatment solutions, you can:
Save money and reduce waste by enjoying filtered water at home vs. buying single-use bottled water.
Make appliances more efficient and keep them in great condition with a water softener system.
Enjoy peace of mind knowing you and your loved ones always have access to high-quality drinking water.
Know you can depend on us to maintain your system after installation.
Why Choose Culligan Water?
When you work with us, you choose local, highly trained technicians and efficient, cutting-edge water treatment systems. You also benefit from over 80 years of experience, meaning you're working with water treatment experts.
We're excited to visit you at your Camp Hill home or business and bring you the safer, tastier water you and your family deserve.
Contact the Culligan Water Team today to schedule your free water test. We can't wait to meet you!
Want more information?
Ask your Culligan Man.
717.697.0657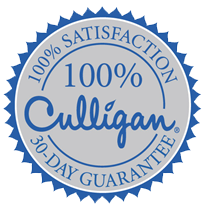 Culligan 100% Satisfaction Guarantee
If you are dissatisfied with your Culligan product for any reason within 30 days of your purchase, Culligan will remove the product and refund the purchase price.