Water Softener Services in Dillsburg, Pennsylvania
Water Softener Services in Dillsburg, Pennsylvania

With its annual pickle drop and small-town charm, there's plenty to love about Dillsburg, Pennsylvania. This safe, friendly town located near Harrisburg is a wonderful place to raise a family, progress in your career or enjoy your retirement.
While life is relaxed and easy in Dillsburg, the water, by contrast, is pretty hard. Dillsburg residents get their water from drilled wells. Well water comes from the ground, so it often contains dissolved minerals like calcium and magnesium.
Hard water can lead to mineral build-up in appliances and plumbing systems. It can also affect soap and detergent performance, making it more challenging to clean around the house.
We understand how frustrating hard water can be, and we believe you deserve better. Contact Culligan Water to bring soft, pure water to your Dillsburg home or business.
Our Water Treatment Services
We care about our Dillsburg neighbors and are happy to recommend a quality, cost-effective water treatment solution. For Culligan Water, no hard water problem is too hard to solve. Here's an overview of our services:
Free testing: First, we want to get to know your water. That way, we can recommend the most effective solution. We'll provide a free, in-home analysis on day one. From there, our professionals will suggest the most effective next steps, always considering your needs.
Water softener systems: If you decide to move forward with a water softener system, we have great options. We offer innovative, high-efficiency water softener systems to help you save on energy costs while fixing a hard water problem.
Filtration systems: If you're also concerned about water contaminants, we can recommend and install a sophisticated water filtration system to ensure you always have high-quality water. From space-saving reverse osmosis systems to efficient, whole-house filtration solutions, we carry and install the equipment you need.
You can count on us to listen to your water concerns and respond with a solution that'll bring you peace of mind — and clean, delicious water.
Benefits of Soft Water
Why install a water softener system? Here are a few reasons:
Extend the life span of your appliances and plumbing system
Increase water heater efficiency
Make it easier to wash dishes, cars, showers and bathtubs with soap and water
Prevent skin irritation caused by hard water and have softer hair
Why Choose Culligan Water?
Dillsburg is a great place to live, but properties often come with hard water. Instead of putting up a "for sale" sign in the yard, give Culligan Water a call.
Our team provides complete water treatment solutions, including delivery, installation and maintenance. We'll also repair your current filtration system, whether it's a Culligan Water product or not.
With over 80 years of experience and highly-trained technicians, you can depend on us for high-quality service and results to match. If you're not satisfied, we offer a 30-day money-back guarantee.
Ready to enjoy soft, clean water in Dillsburg? Schedule your water test today. We can't wait to meet you!
Want more information?
Ask your Culligan Man.
717.697.0657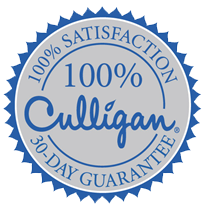 Culligan 100% Satisfaction Guarantee
If you are dissatisfied with your Culligan product for any reason within 30 days of your purchase, Culligan will remove the product and refund the purchase price.